By now, you all know how
excited
I get when a new
"follower"
comes on board my site! I whoop and holler; I jump up and down; I dance the jig; and I do cartwheels--well, not really...but I do
smile
a lot!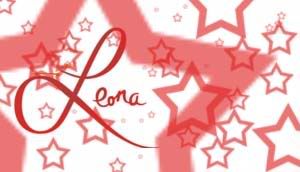 Seriously speaking, every last one of my
"followers"
represents someone that likes my blog; that cares about what I have to say; and that cares about
me.
I'd say that's pretty special. I owe it to all of them to do my very best to at least write something, now and then, that is entertaining, or at the very least, interesting.
My newest "follower" is
Leona G. Shankle
, a published author and poet. Her book, entitled
"At The Starting Gate,"
is a collection of assorted poetry and short stories ranging from humorous to serious and inspirational.
Leona also maintains her two blogs: Her first blog is named after her book,
At The Starting Gate
and it's filled with the things she learned
"along the way to publishing [her] book,"
plus
"some tips and insights,"
and what she calls
"a mind-boggling set-back every now and then."
Her second blog,
Fun n Inspiration
, is the sister site to her other blog, and in
that
blog, she shares inspirational emails and stories as well as things to
"help make [our] day a little brighter."
Welcome to my site, Leona, and I hope you enjoy being part of the "Cynde's Daybook" family. I am honored to have you as a member, and I'll do my best to make you glad that you have joined us!
Until next time...stay safe, stay well, and may God bless you all.
Cynde
Please visit my other blogs:
Cynde's Got The Write Stuff
~and~
Usurper Exposed
. Thank you!