Today, 10 November 2009, was our son, Jonathan's (we just call him "Jon") 18th birthday! It's so hard to believe that he's 18 already. It seems like it was only yesterday when he had to hold on to my hand when we went to the antique car shows with his brother, Joshua, his dad, and me. He would look to me for protection and security, and he used to be so little. But now...oh my goodness, just look at him
now
! He must be at
least
six foot three or four inches tall!
We're very proud of the man that he is becoming. He is a sensitive, caring, young man. For the most part, he is very good to his father and me--much more so than most young men his age. He has been a blessing to us for most of his life. He has been agreeable and helpful, and hasn't given us too much trouble when we've asked him to do things for us or even when we've asked him to just wait for something that he really had been wanting for a
long
time. He has always been wonderful about doing chores for his dad, like mowing the lawn or helping him clean out the gutters, and when we all got together to clean out and organize the attic and the dining room, he was right there, all ready to pitch in. And when we actually did the work, he was fast, efficient, and he gave me some great ideas to speed up the process that
really
helped! (In the photo above: That's my husband, Dion...Jon's dad...with Jon, the "birthday boy" himself, today, right on his birthday. I
love
my handsome boys!)
There are so many memories throughout the years, but I think my favorites are when I'm listening to the laughter of he and his dad as they watched movies/DVD's in the livingroom while I was in the bedroom, surfing the web on my laptop or reading, staying out of the way (they never put it that way—it's just a cute way of stating it) so that the guys could have some special "alone" time—I thought they needed it because they don't get much time together, really, and once the time is gone, you can never get it back.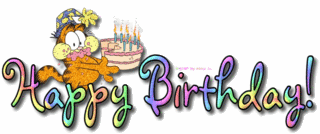 So, Happy Birthday to you, Jon, and remember that we love you very much and always will.
Until next time...stay safe, stay well, and may the Lord bless you all.
Cynde
Please check out my other blogs:
Cynde's Got The Write Stuff
~and~
Usurper Exposed
. Thank you!